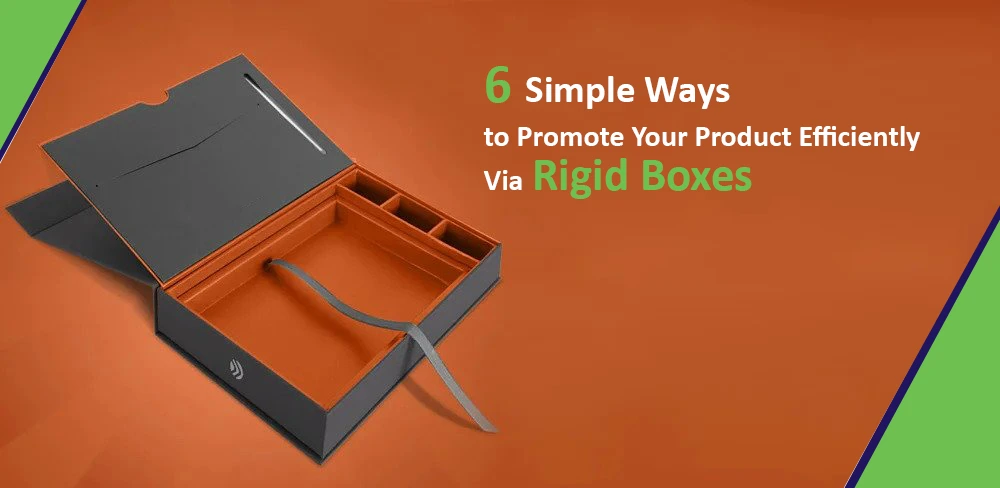 Introduction
Multiple brands are investing plenty of resources to build a good image for their products. They use different packaging solutions to catch the target market's attention. Rigid boxes have their own significance among various options because of their multiple benefits. They provide the indie product the ultimate protection along with aesthetics. With easy customization, they can take any form and style. With fine finishing and advanced printing, they promote a product effectively and assist in achieving business goals. There are many options that brands employ for their recognition. You can use these boxes for your brand promotion in the following simple ways.
Customize your Rigid Boxes Attractively
Personalized rigid boxes are a great way to market your business and stand out. People love getting something unique and personal, which is what these boxes do. Standard boxes with no specific brand name have minimal chances of getting people attention. They consider such products cheap. On the other hand, customization makes a simple box look special, and these boxes are capable of any customization you want for your brand recognition. They are also a great way to keep your customers happy. They know they're getting something valuable and unique, which will likely make them return for more.
Moreover, you can utilize them for special occasions as they make great gifts for birthdays, holidays, and other special events. For people who are just starting, it gives them a good base to move on to more complicated designs that take more work. You can have them in different shapes and sizes, so there's something for everyone with this packaging.
Using Appropriate Style
Choosing the right type of rigid boxes wholesale is mandatory for product promotion. These boxes come in several different styles. The most common is two-piece rigid packages. They are designed from two different structures that overlap and lock together to make one solid piece. The second type is flip-top boxes, which consists of a single piece with an attached lid to open.
If you have to ship your product to long distances, design them with a magnetic catch to be strong enough to bear the bumps during travel. It transfers your product safely to the destination, and customers get them in perfect form. This is the most important requirement for a brand's image and product promotion.
Go for Attractive Unboxing
Another great feature of these custom printed rigid boxes is their various ways of unboxing. You can choose a style that best represents the features of your product. For uniqueness, go for a style different from other available brands. For example, a magnetic closure box looks like a package with a lid attached to one side. They are ideal for gift purposes as the receiver opens the package.
A lot of brands use internal packaging material. It's smooth and sleek look provides an amazing experience. In addition, it can add a touch of elegance that most boxes don't have. Other than this, custom inserts are great for unboxing high-end luxury products. Many consumer electronics, like smartphones, tablets, computer mice, etc., are packed in these boxes. They represent the product in an efficient way to the final customers, which motivates them to make a purchase.
Creative Design Themes for Rigid Boxes
With creative design themes, many well-known brands use these boxes for advertising their products. Depending on the product you are trying to sell, the design of the container can be as simple as a solid background color or as complicated as detailed images with information about the company. This kind of advertising is more visible and reaches more people than TV or radio ads.
With time, new packaging solutions are become popular, like those that tell a story or have a fun theme. As long as you have a good design team and a good printer, printing such themes on your custom rigid boxes is a great way to promote any business.
Labeling with Advance Features
Labeling is an important part of any packaging solution. Using more advanced techniques, you can use this part of boxes to promote your product or brand. For example, embossing gives a logo a real look by making parts of it stand out. On the other hand, deep-down printing of the logo from the surface gives the boxes a fancy look. Using them instead of just printing your logo will stand out more and be more appealing to customers. If the brand name is printed in a unique way, the customers will remember it.
Eye-catching and Flawless Finishing
The finishing of rigid boxes are felt when it comes into the hands of the customers. With a smooth texture, the product makes a strong impression. There are many options for finishing layers, like varnish, which is a thin layer of clear ink that gives the wrap a satin, matte, or glossy finish. Many brands use aqueous coatings that give boxes a glossy or matte finish, making it easier to clean dirt and fingerprints off them. UV coatings that have a glossy finish. You can also put a pattern on UV-coated sheets.
Furthermore, laminating a box makes the wrap water-resistant and free of moisture. It makes folds and small cracks less noticeable. Luxury boxes have matte lamination instead of glossy ones. It is the best coating to use if you want to add foil stamping, embossing, or spot UV. All these things add worth to your product and add value to the business.
Final Words
Customers like it when a product comes in a unique package that shows how great it is. You can make your products safer with rigid boxes as they prevent the inside product from environmental factors. Such packaging is the best way to make your business look appealing to customers because of its personalization and easy adaptation. Top Custom Boxes helps you in creating strong boxes that look nice, so you can carry anything, whether it's fragile glassware or heavy things. They deliver your products in the best possible way with high chances of getting attention and promotion.