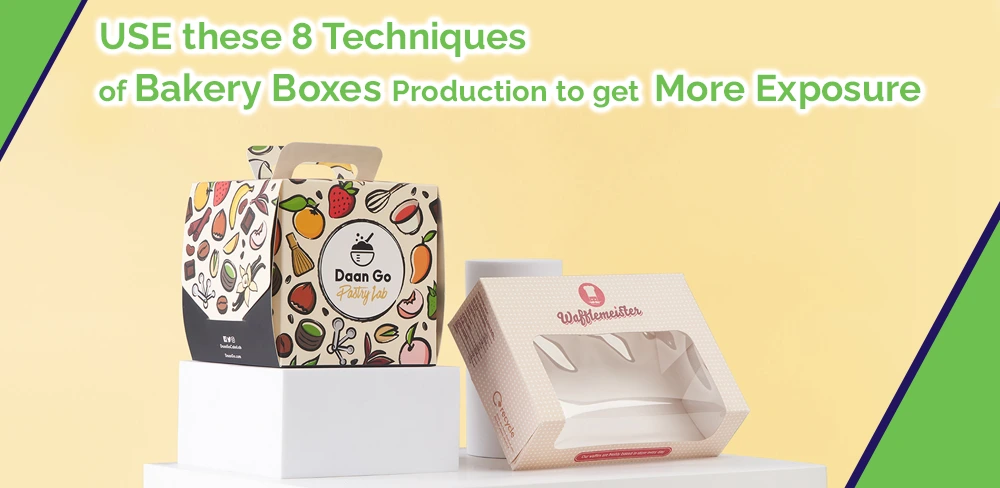 Introduction
People all over the world like goods from the bakery. They are part of celebrations. Bakery packaging is the most important thing you need to safely store and ship these baked goods to customers. The attractive packaging of bakery products is also a good way to get the word out about the bakery and promote it. Among many competitors, the survival of a business depends upon its physical appearance and the exposure it can have through strong packaging. Many ways of designing bakery boxes give the bakeries an edge against others. This article is all about some of the best techniques you can implement during the production phase for better exposure of your products:
Choose Premium Materials for Bakery boxes
The main goal of packaging cookies and other tasty baked goods is to keep their taste and crispness. The effective and appropriate packaging keeps the products safe and keeps the baked goods from getting too soft or moist. That is why you need to utilize high-quality materials like cardboard, Kraft, rigid etc., to make your bakery boxes. They can withstand high pressure and scratches and are best to present your brand to the final customers. Fine materials protect the inside of baked items and are highly customizable to give you more opportunities for brand exposure.
Effective Branding
Personalizing the packaging of baked goods is a good way for the bakery business to meet customers' needs. You can do so with effective branding techniques. Brand name and logo are the two important aspects of presenting your business. For example, pizzas or cupcakes can be put in custom bakery boxes with your name on them. Try to make use of advanced techniques like embossing and debossing for logo imprints. They give texture to the plain surface. Customers will remember the brand because of it. It not only makes the item more expensive but also convinces the customers to trust your bakery items.
Fine Finishing
Innovation and uniqueness can help you present your products in a way that appeals to customers. This also involves finishing your packaging boxes. Coatings or laminations protect the product and make it look more appealing and desirable so that customers will notice it. The smooth texture of a laminated box draws people in and advertises the bakery and its goods attractively. When people hold a box with high-quality finishing, they believe in the inside product quality.
Bakery Boxes with Die-cut Windows
Another technique to get better exposure is using die-cut windows on your boxes to give the viewers a chance to look inside. Customers can be drawn in by the unique and original designs of your cupcakes, pastries, or muffins, which they can see through the die-cut window packaging. This can help boost sales of bakery items. All bakery items are delicate, and they need protection which you can have with these transparent windows. The plastic sheets of these windows prevent air and dust from entering the box and keep food items fresh.
Using Graphics
Each box needs to have relevant graphics or pictures on it. So that customers will get an idea about the product even from a distance. That is why bakery products have different boxes for each category. They use images of the treats on the boxes to make entice everyone similarly, pizza boxes have a picture of tempting pizza on the opening lid. Such graphics have more impact than words on the minds of potential customers. Sales will go up when the specific boxes are used for various baked items.
Right Font Size and Themes
All of the custom printed bakery boxes should have information about the company or a description of the product. But choosing a clear, easy-to-read font style and size is more important. Customers will be more likely to trust the bakery and come back if these boxes have information about the products and other ways to interact with them. Customers will never notice if a box has no information, but the necessary information needs to be bigger. So, you must use a font size that fits the size of your box and is also easy to read. Also, choose themes that are interesting and easy to read. There is no standard theme for fonts. The choice depends on how easy it is to read and how you want to market it.
Wise Selection of Colors
Colours also have their own personalities. Like white colour is associated with pureness. Having white boxes for your baked items represents its pure ingredients. On the other hand, simple brown coloured boxes have a rough look. So, choose a colour scheme wisely. You can have bright and beautiful colours as well to catch the attention. Choosing colours that are different from each other can make bakery boxes wholesale interesting and make your products stand out. The funky colour themes make your food items a must-part for any celebration.
Attractive Boxing Styles for Bakery Boxes
Using different boxing styles is a great way to get the word out about your bakery business. Instead of just using tuck-in boxes to pack and carry bakery items like doughnuts, cookies, cakes, cupcakes, pastries, etc., there should be more options, such as sleeve boxes, boxes with lids, etc. The more unique your boxing styles are, the more likely you will get more attention. Consider using Top Custom Boxes services if you want to make sure your packaging looks great. The company helps its customers make professional-looking boxes that also appear amazing.
All the techniques mentioned above are helpful for a bakery to make its presence viable among many competitors. Customers like innovative yet functional packaging, which is only possible by using the right customization techniques for bakery boxes. Effective brand name printing with smooth texture finishing boosts the product's image in the market. Customers also trust food items packed in fully secure boxes with all the necessary information. The success of a bakery business lies in its presentation.