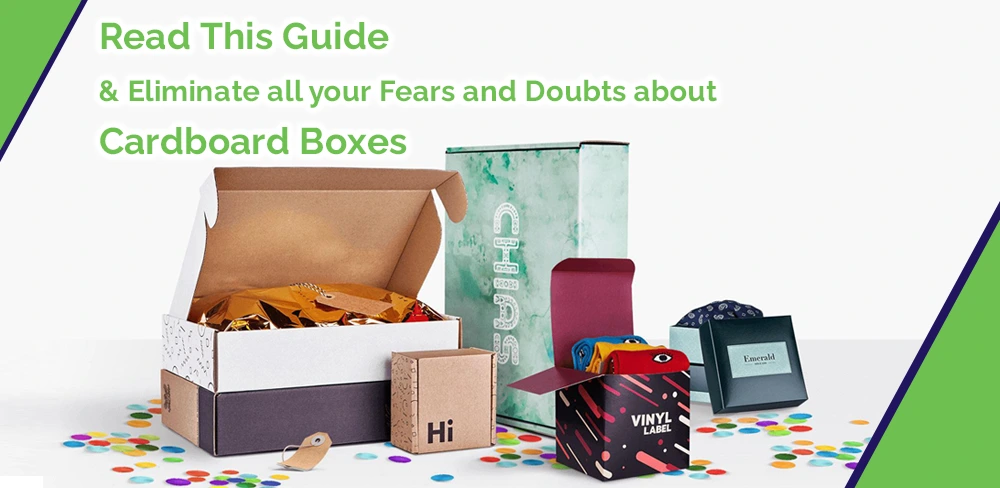 Introduction
When picking the right box packaging, you should consider different aspects. If you know your products' size and other safety requirements, you can take a step toward finding a good way to package them. This packaging makes a product successful or a failure in a competitive market. Among many options, cardboard boxes are widely in use because of their sturdiness and highly customizable nature. To make these boxes the perfect way for your products, you must keep certain aspects in mind. In this guide, we will discuss them in detail to eliminate all your fears & doubts about these boxes. Let's check them in detail.
Consider the thickness of Cardboard Boxes
Protection is the first criterion for any type of packaging, and to ensure that your product has the required safety during transit, cardboard boxes come in various layers or walls. Most commonly in use are single and double-wall boxes. Single-wall boxes are the best for everyday packaging needs. This cardboard box is made from a single sheet of strong, rigid flute corrugated board. It can keep more things safe. It is in use by businesses worldwide because it is cheap, easy to make, and good for most non-fragile items.
Moreover, double-walled boxes are a better choice when you need to pack something tougher. Because they have two walls, they can hold more weight per box. Kraft papers are in use to manufacture them, and they come in different sizes. These boxes are often the more effective solution for long-term storage options. Since they are stiffer, they can bear bumps or pressure during transit.
Accurate Size Measurements
The size of a box matters a lot for the safe delivery of any product. If you place your product in a big-sized box, you must add inserts; otherwise, it will bounce with the walls during transportation. Or, a too-small size will create scratches on the surface. In short, a wrong-sized box can cause damage to the exterior or interior of the inside product. To avoid this, you need to make proper measurements to have the right-sized boxes.
The interior and exterior measurements of a box are two different things. When you measure a product's length, height and width, it means we are taking notes for the interior size of custom cardboard boxes. The exterior of the boxes will have some higher inches in terms of length and width. If you are still confused about accurate size measurements, get help from Top Custom Boxes. We will guide you about the packaging box's size measurement for your product in a proper way.
Select Cardboard Boxes with Amazing Unboxing Styles
Cardboard packaging comes in many different styles to fit a wide range of products. You can use them for delicate products like perfumes and cosmetics and pack heavy products like electronics in these boxes. They come in different styles depending upon the specific need of your product. Some products may work well with a certain style, but others may not. For example, boxes with magnetic lids are best for luxury products. They protect the product inside from environmental factors and attractively represent your product.
Also, you can transport small or lightweight things in tuck-in cardboard boxes. They can come in flat shapes and reduce transportation costs because they consume less space. Other styles of boxing are mailer boxes, pop display boxes, sliding boxes etc. The selection of any style depends upon personal choice and budget.
Designing and Themes Selection
The packaging leaves a lasting impression on your customers with its alluring designs. Selecting any colour scheme of design patterns must represent the inside product effectively. If you want a bold personality for your product, go for bold colours. That is why men's products often come in black coloured boxes. Furthermore, for elegance, white or light colours are best. Also, the colours you choose for your boxes should match the brand of your company or product. So, consider the colour scheme you use on your website, ads, and logo.
Other than the colour scheme, designing is incomplete without having proper themes. They are many trends in the market regarding themes of packaging solutions. For example, you can go with storytelling themes as they increase engagement with the customers. You can get ideas from competitors or top brands about exquisite boxes.
Advance Printing Options
Some printing methods work better for larger boxes, while others work better for smaller orders. Depending on the printing method, you must finalize a design or a theme for your packaging. So one must know the features of various printing options. Flexography, lithography, and digital printing are some of the most common ways to print on packaging boxes. Text or pictures are put on a surface with flexography. This is the most cost-effective way to do it when you need a lot of high-quality prints.
Also, lithography is an inexpensive way to print a lot of copies. But most of the time, it is in use to print labels called "litho labels" that are then stuck to the corrugated box. Furthermore, digital printing can print small quantities quickly and cheaply and has better visuals than flexography. They give you better results if you want complex designs for custom printed cardboard boxes. Each of these techniques has its pros and cons. So, choose the best one based on how much you want to order and how complex your design is.
Coatings and Laminations for Finishing
Finishing is the most important thing to do if you want a box to look professional. There are different kinds of finishing layers. Matte, glossy, aqueous, shiny, and UV spot laminations are all common finishes. When cardboard is laminated, water and moisture can't hurt it. After laminating, and coating, the surface of the cardboard boxes wholesale looks clean. They present your product in an ideal way to the target market. People judge the inside product by the fine texture of its box's surface. So, it is important to consider this aspect of packaging.
Along with lamination or coating, foil stamping is also in use to print logos which is essential for effective branding. Embossing and debossing are new ways to highlight your brand name or logo. They increase the aesthetics of even a simple logo. In embossing, the logo can be raised above the surface, but it can be pushed down in debossing.
Wrapping Up!
Every brand owner develops new strategies to attract customers' attention. They are spending resources on designing the right packaging solution for a strong appeal. A Cardboard box is highly recommended because of its cheap cost, high protection and customization. The points mentioned above guide you through all the factors you take before finalizing your packaging design. The purpose of this guide is to clear your mind about all the doubts you may have about cardboard boxes.